Yokohane is a course which always ends on either Wangan, Minato Mirai or C1. Due to the fact that most players choose to use 825HP (now 830HP from Maximum Tune 4), if they go to C1 they will have a hard time cornering well.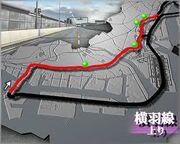 To avoid problems on the C1, you may want to consider lowering your horsepower.
Choosing your lane to Wangan or Minato Mirai can also be a wise choice, depending on your starting lane and horsepower.